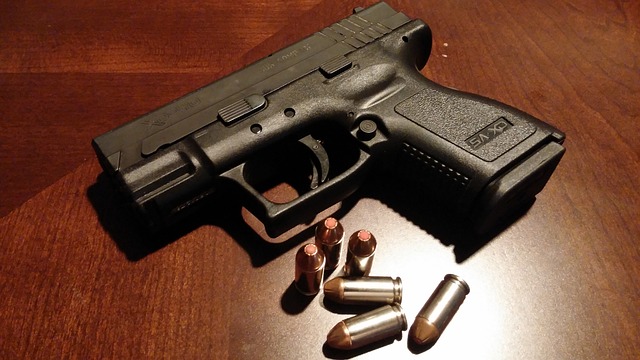 UCF Police Department Chief Richard Beary called a proposed legislation that would allow open-carry on Florida college campuses "the worst" bill filed.
"I'm not anti-gun but I am pro common sense, but what I see lacking in the legislative initiatives out there so far is common sense," Beary said.
SB 140, the proposed legislation that would allow those with concealed-carry weapons permits to openly carry on college campuses, is currently on the Florida Senate agenda.
As a UCF alumnus who has been in law enforcement for over 40 years, Beary spoke to associate journalism professor Steve Collins' news reporting class about the issue of guns on campus Monday. He outlined dangers and difficulties that law enforcement would face if guns could be legally carried on campus.
Chief Beary believes that students' collective lack of firearms training, the issue of mental health and presence of alcohol and drugs makes them unfit to carry weapons. He goes on to cite cases where children managed to get a hold of a gun kill someone.
"You're gonna take somebody that has no training, hand them a gun, say 'Okay, now you can carry it on campus, where they're 60,000 people and then expect to deploy it in a safe and prudent manner.' I don't see that happening," Beary said.
Rather than allowing guns on campus, Beary has joined the 11 other Florida universities' police chiefs and administrations to oppose the legislation.
Sen. Greg Steube, R-Sarasota, which the bill is sponsored by, disagrees and believes that gun-free zones should be abolished. Steube argues that gun-free zones help criminals ensuring the absence of armed individuals.
He isn't surprised that the university police chiefs are against allowing guns on campus.
"Of course they don't, they want to be the only ones with guns," Steube said. "But 1.7 million concealed weapon permit holders carry guns in Walmart and other public places already and they don't have a problem with that. Why would it make a difference?"
Along with creating an unsafe physical environment, Beary fears that firearms on the UCF campus will damage the ability to debate openly. He asks, would you openly disagree with someone if there's a possibility of them carrying a gun?
Some students agree with Beary, saying that they would feel uncomfortable if they saw another student carrying a gun openly in class.
"You don't display a gun unless you want people to be scared of you," said Jillian Bos, a hospitality major.
Not everyone agrees with Beary and Bos.
"If you have a concealed carry I don't mind," said finance major Anthony Giananco. "We've had threats on campus before."
Giananco does believe that people should undergo more thorough training before being given a permit, and so does Beary.
SB 140 is not Steube's first proposed firearm bill.
HB 4031, would have removed "provisions prohibiting concealed carry licensees from openly carrying a handgun, or carrying concealed weapon or firearm into specified public meetings or into career centers," according to the Florida Senate website, died in the House's Criminal Justice Subcommittee in early 2016.
Dr. Kenneth Adams, a UCF professor in the Criminal Justice department, disagrees with SB 140, echoing Beary's belief that students do not have enough training to handle weapons.
"I think under the current arrangement, anybody can go and buy a gun, and the training is minimal," Adams said. "I think we might even have more training for driving an automobile than we do for carrying a gun."
Spencer Kovach, the president of the Young Americans for Liberty UCF Chapter, sides with Steube however, saying that gun-free zones don't accomplish anything and that students should be able to protect themselves if necessary.
"Let's say there was a potential shooting at the library; if that actually happened I'd be much happier with somebody having a handgun that could take him down," Kovach said.
"The UCF Police response time is I think 90 seconds which is pretty good, but if you have a semi-automatic you can get a lot of rounds out of a mag in 90 seconds."
Marion Hammer, a representative of the National Rifle Association in Florida, believes that students deserve the right to have a gun with them for self-defense if they have a carry license, saying that Beary and the other university police chiefs are promoting their own agenda by opposing.
"Every time we take action to protect the constitutional rights of law-abiding gun owners and their constitutional right of self-defense, people like this police chief advance nothing more than emotional arguments," Hammer said.
Beary, however, believes that students can protect themselves without weapons by taking a defensive tactics class hosted by the UCF Police Department and always being aware of their surroundings.
"Just because the volume of guns goes up does not mean we are safer because if that was the truth we would be the safest nation in the world," Beary said. "If guns are the answer, we shouldn't be having any problems."
Edson Vargas, Shannon Hampton, Lucas Brown, Zachary Lange and Alissa Lawson contributed to this story.