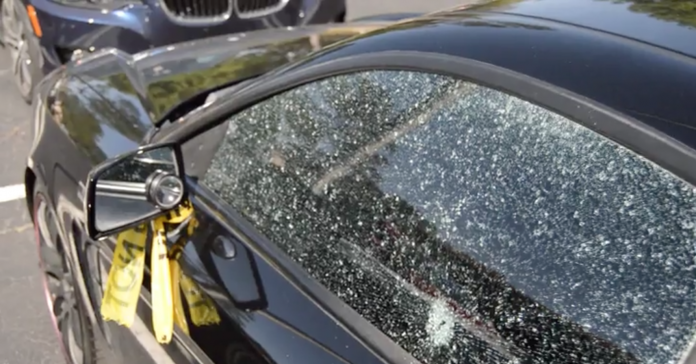 Thirty-six cars were broken into early Tuesday morning during a possible gang initiation, according to the UCF Police Department.
UCF Police Chief Richard Beary stated that this has been the largest vehicle break-in on campus in his career working with the university.
UCFPD received a call around 2:50 a.m., from an eyewitness, reporting a car burglary was in process by the Lake Claire Apartments and on-campus Greek housing area. When officers, arrived four suspects, dressed in hoodies, fled the scene, in a vehicle that had been reported stolen earlier from the Apopka area. The car came to a halt, near Rouse Road, after it crashed into a median and flattened the car's tires. The suspects ditched the crash vehicle and fled on foot.
Police were not able to locate them.
Please RT. Recognize him? He's a suspect in last night's vehicle break-ins at Lake Claire Apartments. Call UCFPD at 407-823-5555 with info. pic.twitter.com/mVtOoAQ60B

— UCF Police Dept. (@UCFPolice) March 21, 2017
Recent alleged gang initiations have included breaking the windows of vehicles and stealing valuables such as electronics and wallets. From Winter Park to the city of Orlando, various gang members are scouting for vehicles that have visible items inside. Most the monetary damage has come from the burglarized vehicles rather than the stolen property. At least a dozen suspects have been apprehended in connection to the auto-theft surge, but Beary states that campus is still a target.
While UCF police recognize a need to keep the UCF campus area safe, Beary, emphasized that whatever crimes happen around UCF, it is still subject to happen to students. "There is no bubble around campus," Beary said.
Beary ruled out the possibility of adding more cameras to the university, saying that Florida weather often damages them, and they tend to be expensive without preventing crime.
Instead, UCF police have often provided students with tips on how to minimize the chance their vehicle could be targeted for burglary, such as leaving expensive items at home.
UCF police also provide a website where students can register their electronics and other items in the event they are stolen on campus. When the stolen property is recovered by police, the serial number can determine the owner for a simple return.
Beary wants students to direct their frustrations to the alleged gang initiations as the source to the burglary, instead of blaming the university or other factors for the theft.
UCF police are focused on finding the suspects and minimizing future gang initiations near campus. "Remember to be angry at the bad guys," said Beary.