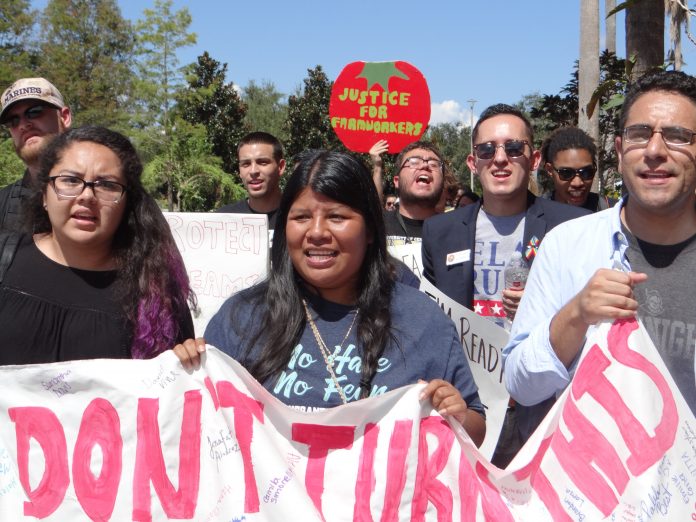 Under the early afternoon heat, progressive activists and students gathered at the Student Union's patio stage to rally and march to protest the end of the Deferred Action for Childhood Arrivals, which protected qualifying individuals from deportation.
The dozens of people who arrived grabbed posters, signed a banner supporting DACA beneficiaries—also known as Dreamers—and chanted to passersby. Speakers were scheduled to address the crowd, including Florida Representatives Carlos Guillermo Smith (D-49) and Amy Mercado (D-48), who represent districts in Central Florida.
Both pledged their support to the approximately 40,000 people who benefit from DACA.
"We can't fight with rhetoric and harsh words," Smith, whose district covers the University of Central Florida, said in a speech. "They are taxpayers, they are taking care of their families—they are just as American as the rest of us, just without the paperwork."
"I not only stand with you and support you, but I will fight for you in Tallahassee," Mercado said.
The rally focused on the Dreamers who took the microphone to tell their stories about growing up from an early age in the US. One of those is Sofia Garduno, a sophomore political science student who currently serves as the secretary of the College Democrats at UCF and who said in her speech, "I'm not just a case file and I will speak out if I have to."
"I didn't want to speak at first," Garduno, who arrived from Mexico at seven years old on a tourist visa, said. "But seeing there are people who support me in the community it made me want to come out and show people we need to do something" about Dreamers losing their protections.
Following the speakers, attendees marched and chanted around campus, including in front of Millican Hall, where the Office of the President is housed. To Kevin Ortiz, the president of Dreamers at UCF, that stop is significant.
"I know UCF stands with us and we have faculty and staff that support us, but we have not received an actual letter of support from [UCF President John] Hitt or his leadership team," Ortiz, who is also undocumented, said. "We know they support us, but it can't be just words. They have to put it in writing."
President Hitt has shown his support for DACA in the past. He was a signatory to a letter released following President Trump's election last November and said earlier this month that UCF will support all students "while following the law."
It is unclear what Ortiz meant when he said that Hitt's office has yet to express their support for Dreamers in writing, but it could mean that UCF has yet to express their support in the same vein as University of Florida President Kent Fuchs, who released a five paragraph statement unequivocally expressing solidarity with undocumented students.
DACA, which gave work permits and in some cases access to scholarships to at least 120 undocumented UCF students, which has been scheduled to end earlier this month by the Trump administration unless congress acts to continue it. The first permits are set to expire March 6.
"We want something that is permanent and not temporary like DACA," Ortiz said. "We always knew it wasn't enough and now is the time to pass legislation that helps us out."
For students like Garduno, the College Dems secretary, and Eli Garcia, that time seems to be running out. Garduno, for one, fears the effect it will have on her sister, who is also a DACA recipient and is currently in high school.
"I thought of my sister" following the Trump administrations Sept. 5 announcement, she said. "She just received DACA and now it's being taken away. It hurts that I got this opportunity to go to college and she might not."
"I know I have a deadline," Garcia said. "Every day is a day closer to when I won't have DACA."
Some students are not sympathetic to that dilemma.
"I'm all for immigration, and this country was founded by immigrants, but they have to be here legally," Joe Rossi, a freshman, said.
Still, the outpour of support is encouraging in the push forward to protect Dreamers, Ortiz said.
"This representation of UCF, these diverse people standing together as one and celebrating community is incredible," he said. "It feels great."
The rally was organized by Dreamers at UCF, the College Democrats, and other progressive student and community organizations.