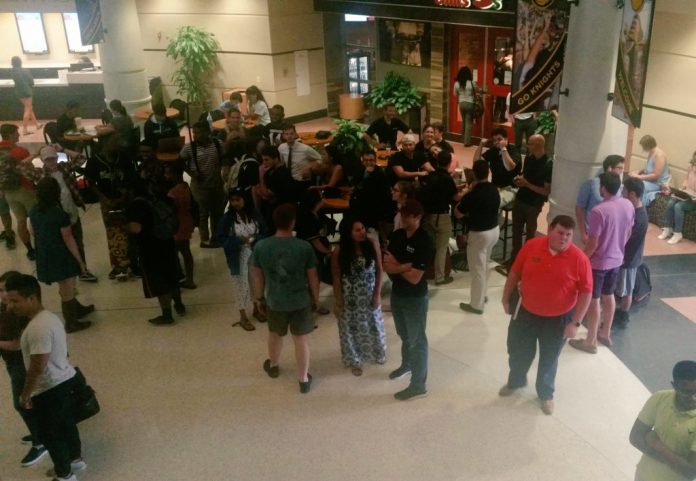 The Senate candidates gathered at the Student Union atrium Wednesday evening for the announcement of the winners. For many, the results were unsurprising since they ran completely or virtually unopposed.
Seats belonging to the College of Undergraduate Studies, the College of Nursing, the Rosen College, the College of Education and the College of Graduate Studies all saw their declared candidates win their seats.
One school, like the College of Optics and Photonics, had only one candidate—a write-in called Sean Isenberg, who won after receiving three votes. For undeclared majors, there were no candidates on the ballot.
The election also saw a decrease in voter turnout, with only 3,477 people voting for Senate candidates—about 30 percent fewer than last year. Jamal Mays, the Student Government Association's assistant supervisor of elections, said that the reason for this was the scramble to reschedule after Hurricane Irma.
"Originally, everything would have been closed down around mid-September, but due to a whole week being taken away from the elections we had to figure out rescheduling and after that, people who wanted to pursue Senate either disappeared or people didn't get through the petition."
Potential candidates would have needed to receive a certain number of signatures to get their name on the ballot. They could have still written themselves in, but that considerably decreases that student's chances of winning.
In the College of Engineering, for instance, Joshua Bolona, who ran for SGA president last year, declared his candidacy and received 384 votes, the most of any other candidate. Jad Shalhoub, his former running mate, was a write-in candidate in the same college. He only received two votes.
In the College of Business, only three students—Jeremy Batista, Spencer Lasday and Corey Marcous—were considered declared candidates. Nine candidates were write-ins, five of whom—Joshua Paul, Alex Teblum, Samuel Cooper, Lauren Phillips and Daniel Morris—won seats.
The number of write-ins in the College of Business, Mays said, is unprecedented, with only one or two write-in candidates for that college in previous years.
Advertising and outreach was also a factor in the dip in turnout. Mays promoted the election on the UCF class pages on Facebook, but that did not stop the turnout from being as low as it was. And due to Hurricane Irma, which forced UCF to close for 10 days, much of the news coverage was dedicated to the storm.
"It was kind of a mess, but we tried to mitigate that by updating our Facebook as much as possible," Mays said. "We definitely are going to learn from this election and we have a lot of things that we're going to push for in Senate, so we highly encourage news organizations to follow up with us."
One of those things is social media. This semester saw the election commission create a Facebook page to provide news and updates to "make sure everyone knows they can vote and run for their college seat."
Despite its problems, the election did see new faces come into Senate. Robert Sells, who served as the transportation coordinator last year under former SGA President Chris Clemente, won a seat along with Theressa Tong in the College of Undergraduate Studies.
His platform, in part, focuses on tackling what he calls "incumbent advantages," namely banning campaign tickets during SGA elections. He also promised to "introduce policies to fight against nepotism in SGA."
"One of the first things I'm going to push for is campaign finance regulations because it's absurd how much money any individual wanting to run for SGA president has to spend," Sells said.
Karen Caudillo, a DACA student who became nationally-known for her progressive activism, won a seat in the College of Sciences.
"I'm not sure what committees I'm going to join, but I just want to make sure that organizations receive adequate funding and that everything is done ethically and responsibly," Caudillo said. Another part of her platform is to push for greater sustainability on campus, beginning with having on-campus restaurants switch over to "compostable silverware, plates and cups."