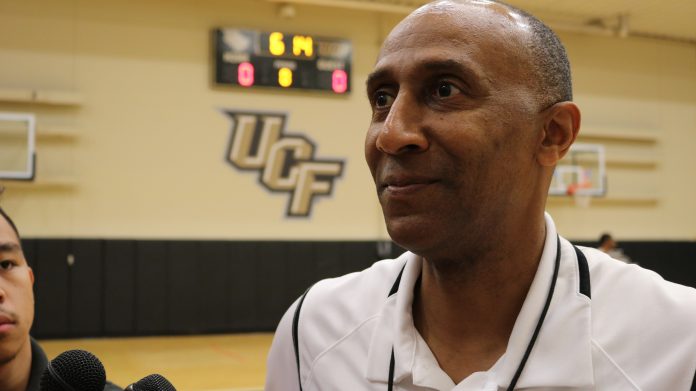 ORLANDO, Fla.- UCF moves to 3-0 on this season after taking down William and Mary 75 to 64.  The team was favored going into the game, and handled their business.  With all the early season injuries any win is great, it would be unfair to be overly critical.
"We won this game because of how we defended," Coach Dawkins said proudly.
Tacko returned to the floor for the first time this season after missing the first two games due to a sore hip.  Coach Dawkins is trying to work Tacko back slowly, the big man only played 15 minutes tonight.  Tacko played well in his limited time on the floor, finishing with 13 points and 7 rebounds.
"Tacko's debut was good, he went 15 minutes, he was very efficient," Dawkins said about his returning star. "Today was good indication of the type of player he can become."
Bringing a player like Tacko into your lineup changes the game for everyone.  UCF's offensive game plan changes completely.  They run much less screen and roles, and rely a lot less on players like Ceasar and Dayon beating their man off the dribble. In many matchups Tacko is just too big for his opponents, so UCF takes advantage of that.  Whether that means Tacko scoring or shifting the defense enough to create an advantage for one of his teammates.  Obviously, these things are advantages for UCF, but they are also adjustments.
"There is an adjustment period in getting him the basketball," Dawkins explained.  "I saw our guys double take twice during the second half when he was open, most of these players haven't played with Tacko.  Besides AJ, BJ, and Chad, the rest of these guys this is new for, they used to play against him (during practice).  This is a good opportunity for them to learn how efficient he is, and how to get him the ball in the low post.
AJ Davis, once again, played great.  Recorded his 2nd consecutive double-double in as many games.  The senior has been the reason for this 3-0 start.  Not only has AJ led the team statistically, he is also has been a great leader for this team.  With a bunch of young guys around him, AJ's veteran leadership has been crucial.
"AJ played with a lot of poise, he did a good job of leading the younger players on our roster." Dawkins said about his senior leader.
Chance McSpadden had a breakout game today.  Chance shot 7-11 from the field, scoring 18, grabbing 5 boards, and dishing out 4 assists.
Terrell Allen went down early in this matchup.  Six minutes into the game, Terrell went down hard contesting a shot.  He didn't return.
"He hurt his hip, it's sore right now," Dawkins said. "We will know more in another day or so."
Losing Allen would be huge for UCF.  With BJ out for approximately 5 more weeks UCF needs Allen to run the point.  He had been playing very well for The Knights.
UCF is playing in the AdvoCare Invitational this upcoming week.  The tournament takes place at the HP Field House, in Lake Buena Vista.  Their first game is Thursday night against Nebraska.  It starts at six and will air on ESPN.  The game has high stakes for the fanbases with constant rumors hinting that Nebraska is trying to take UCF's beloved football coach, Scott Frost.