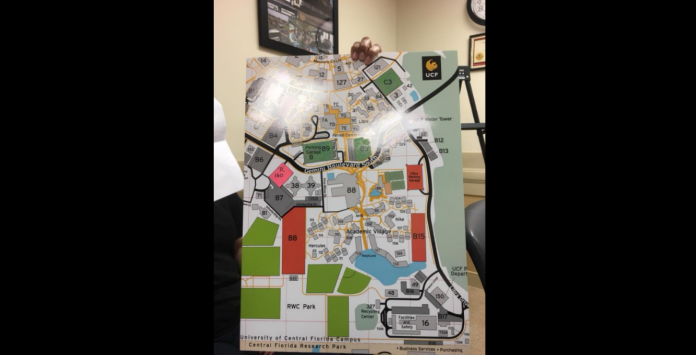 Student government's parking coordinator announced new rules for University of Central Florida on-campus residents which aim to "free up over 1000 parking spaces" next semester.
The changes, posted by coordinator Chandra Kethi-Reddy on Facebook, aim to "single handedly (sic) help pull hundreds of cars off the road and make sure we have available garage space in garages that experience the most use."
Students who have parking decals for garages G and E – designated for Towers residents – will no longer be allowed to park in other garages around campus. Instead, Kethi-Reddy wrote, they will be able to use the Black and Gold shuttle routes to "get closer to their classes more efficiently."
Residents living at UCF's southern communities – Apollo, Libra, Hercules, Nike and Neptune – will have to move their cars from the Ferrell Commons parking lot, the lot shared by Libra and the Physical Sciences building and Garage B. They would only be allowed to park in the eastern and western lots of Academic Village and the Libra Garage.
"This means those spaces where cars would sit, sometimes for weeks, are now freed up," Kethi-Reddy wrote. "The lots will also make monitoring those cars easier, to prevent break-ins."
Shuttle route 15 will also be modified to pick up students living in Arden Villas near campus.
The new policies, paired with other proposed projects, would ensure that "most traffic and parking congestion will evaporate" by next fall, according to Kethi-Reddy. It is part of his broader promise to "permanently fix the parking problem" by 2020.
Commuters and residents alike regularly report problems finding parking on campus. The Orlando Sentinel reported in May that UCF sees 45,000 students, faculty and staff visiting the campus daily and compete for one of its approximately 18,000 parking spots.
While the changes intend to concentrate residents into other lots to allow more room for commuters, there is already some concern about the inconvenience students living in Academic Village, Libra and Apollo will experience, according to a source familiar with the plan's logistical implementation who spoke on condition of anonymity.
"People in Libra and Apollo will have to cross Gemini to get to and from their cars with groceries or whatever else they may have," he said.
The problem is compounded, the source said, by the fact that residents pay more for their parking permits than commuters – up to $50 more for annual hang tags, according to UCF Parking Services.
Nevertheless, the parking and transportation advisory committee voted unanimously to move ahead with the new policies.
It is unclear how much it will cost to implement them, but Kethi-Reddy said in the post that it is "near zero."