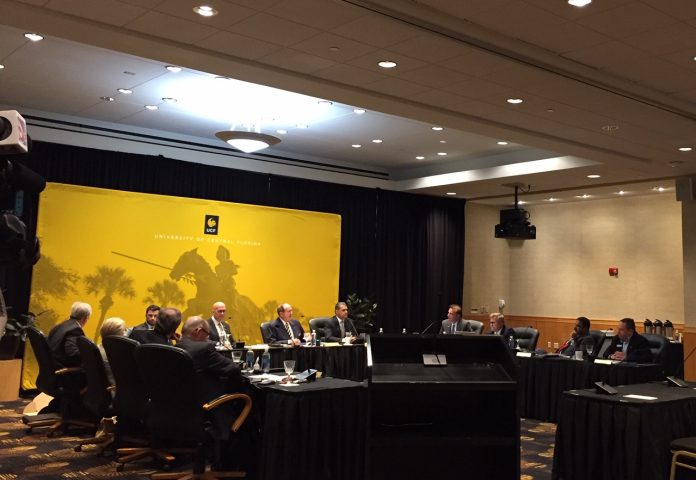 UCF Chief of Staff Grant Heston will step down from his position starting Dec. 1, according to an email he sent to members of the Office of the President on Friday.
"Today, the search for a new president is beginning, [interim President Thad Seymour Jr.'s] UCForward goals are in motion and key administrative changes have taken hold," Heston said in the email. "With that in mind, I'm stepping down as chief of staff to focus on my role as vice president for Communications and Marketing, effective Dec. 1."
The UCForward initiative was announced during the 2019 State of the University with the overall goal of strengthening the university's operations, expanding the university's resources and investing in excellence.
Heston has served as chief of staff since July 2018, according to his LinkedIn. UCF spokesperson Chad Binette said in a Thursday email that Heston will remain vice president for Communications and Marketing.
In the email, Heston said he never intended to remain chief of staff under a new president, but rather to help Seymour prepare UCF for its new president.
"Why not wait until later, you ask? Well, I've longed believed in the old saying that 'what should be done eventually should be done immediately,'" Heston wrote in the email.
In his roles as chief of staff and vice president for Communications and Marketing, Heston oversees the Office of the President, WUCF TV and FM, University Audit and the Ombuds Office, according to his Board of Trustees bio.
Heston lists his job description for chief of staff in his LinkedIn bio as providing strategic direction to university-wide initiatives, leading multiple administrative units, recommending institutional priorities and promoting a leadership culture focused on outcomes, service and collaboration.
UCF did not respond to questions regarding potential changes in Heston's salary by the time of publication.
"Each of you has my most sincere gratitude for the help you've given me and the kindness you've shown me the past 18 months," Heston wrote in the email. "It's meant more than you can know."
This is a developing story. Check back for updates.