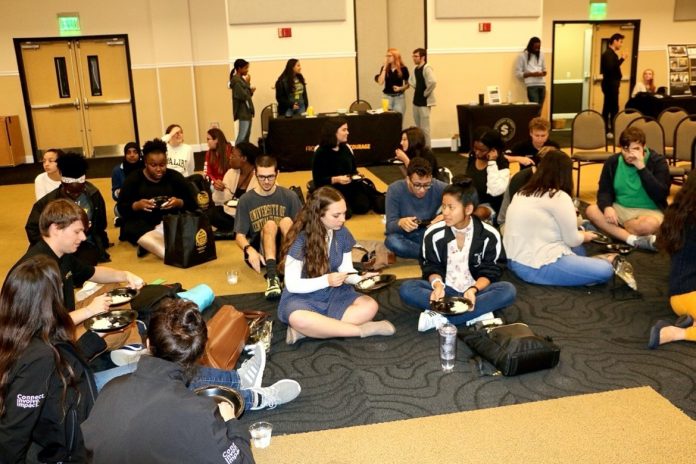 While the lower class was sitting on the floor eating rice and drinking water, the high class had been served with a nutritious dinner and sat by the tables with silverware. This is how a homelessness simulation looks like for UCF students who participated in the Hunger Banquet in the Student Union's Pegasus Ballroom Monday.
Hunger Banquet, is an interactive event that both creates awareness about the issues of hunger and homelessness, and ways to help reduce the disadvantages associated with the inequalities of social classes. The event provided participants a simulated experience of the realities of social classes, said Valeria Hansen, assistant director for Volunteer UCF.
"We are trying to educate the UCF community about not only hunger and homelessness on a national level but more on a local and community level," Hansen said. "There is a population of our student body that is in need of that."
Nearly one-fifth of all homeless students in the state of Florida live in Orange, Osceola, and Seminole counties, equaling more than 13,700 students, according to the Coalition for the Homeless of Central Florida, a housing management program for homeless people.
The event is a part of National Hunger and Homelessness Awareness Week at UCF, a week of events and programs to help raise awareness about the problems of hunger and homelessness.
Before the simulation, two speakers shared stories about their experience with homelessness and hunger. Rashaan Graham, a UCF Americorps recruiter, described how it felt being homeless himself and encouraged students to help others by interacting.
"We want to change the world, but we won't talk to people whose worlds we want to change," Graham said. "Don't just sit there, do something. Do anything and know that you can."
The second speaker, pastor PJ Charles, emphasized how meaningful relationships between homeless people and students can be.
"Treat homeless people like normal people, because they are normal," Charles said. "Get to know them. It helps with the loneliness."
After the speeches, participants divided into three different social classes: lower, middle and upper classes. The lower class got to eat rice and drink water, the middle class got to eat sandwiches and have a drink of their choice, and the upper class got a full-course meal served with napkins and silverware.
"I think this event really structured itself in a way that it is difficult for it not to last with me," said Chad Hense, freshman psychology major. "Lower class is sitting on the floor having less than the upper-class people who are eating nice burgers by the tables."
Jacob MtCastle, freshman psychology major, said viewing homeless people as humans stood out the most to him during the banquet.
"A part of the reason why I actually got into clinical psychology was seeing everyone as humans and not just numbers or problems," MtCastle said. "It was interesting to listen to one common thread throughout the entire banquet: viewing homeless people as humans."
Both MtCastle and Hense decided to participate in all the on-campus events during the Hunger Awareness Week.
"I thought this week was a little thing that UCF does, something like a Homecoming week," MtCastle said. "Now that I have seen it, I want to know what they have to say because it made this issue more personal to me."