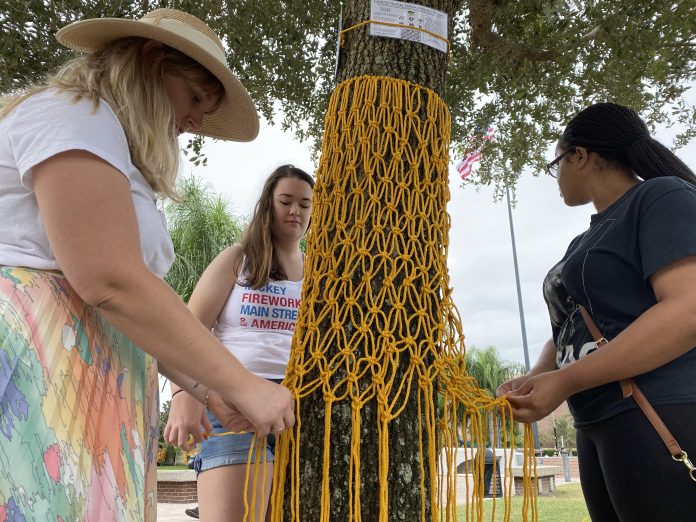 Walking out to Memory Mall trees are dressed in yellow by knights from all walks of life. The Central Florida Yellow Ribbon Project took place Nov. 1, to support troops and raise awareness for student veterans.
This year the focus of the event was to provide necessities for student veterans, of which there are about 1500 at UCF, according to a UCF press release.
Each department at UCF sponsored a tree and a portion of the funds from each will go to creating a school supply vault for in-need student veterans.
Tiffany Rivera, program coordinator of educational and training programs within the College of Arts and Humanities, is in charge of the daily operations of the Veterans History Project. Due to the nature of the project, Rivera meets many of the student veterans on campus.
"They are nontraditional students in most cases. They are balancing families; they are balancing their service, some of them are reservists," Rivera said. "They are also committed to their education and I applaud that."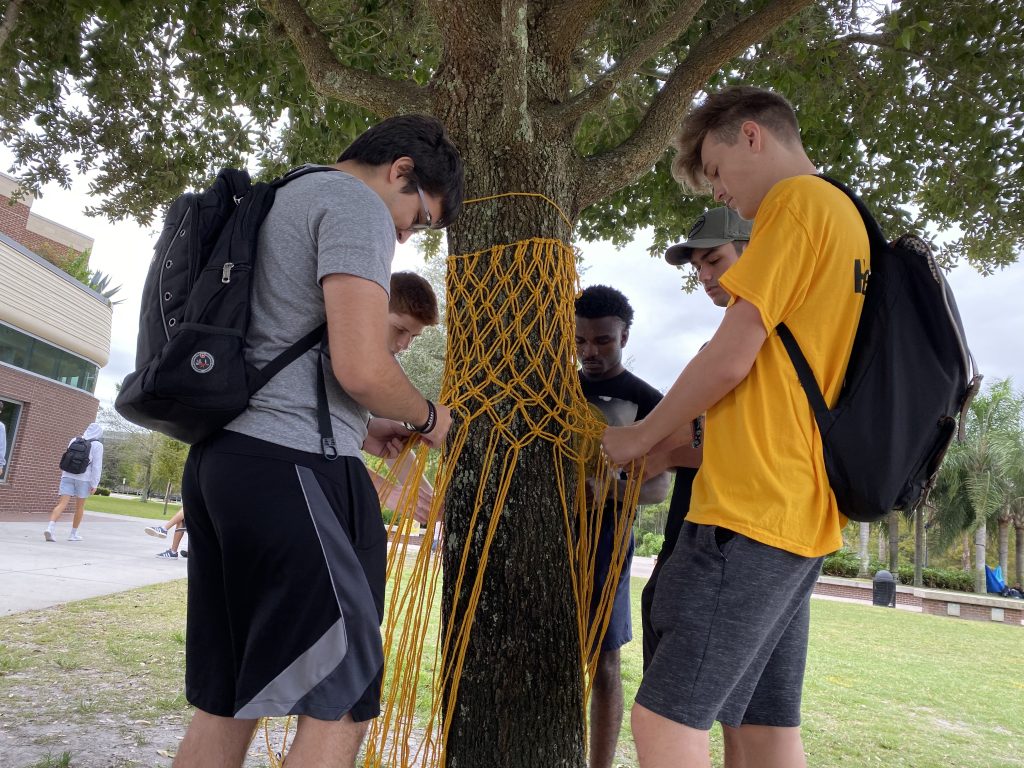 Jack Bramuchi, sophomore computer science major, expressed the peace he felt while volunteering for the event at Memory Mall. He said that overall he enjoyed helping out, and it is a good way to represent all that our student veterans accomplish.
"Memory Mall is a big focal point of our campus. For people walking around the first thing that is going to stand out is all the trees have turned yellow," Bramuchi said. "I think it is good to raise awareness, people will question why the trees are yellow. Well, we are raising awareness for our student veterans and our appreciation for them."
Victoria Walsh, better known as Macramé Momma, began as a UCF student involved with ROTC. These installations hit close to home because of her long family history, with five branches of active and retired military members. Her goal was to be able to continue connecting to the community and supporting those cadets and student veterans.
For Walsh coming back here, to the last place where she left her military journey, it was important for her to support the veterans here on campus today.
"This year we decided to bring it a little bit closer to home," Walsh said. "That was important to me that we supported the student veterans here at UCF because tomorrow we are doing another installation on the other side of town at the Orlando Museum of Art. The goal every year is to add on another place in Florida that we can help out veterans unique to that area."
The future of this project relies on expansion, and connection to other veterans within a variety of communities outside of Central Florida.
According to "Macramé Momma," soon it will no longer be called The Central Florida Yellow Ribbon Project, it will be The Yellow Ribbon Project.