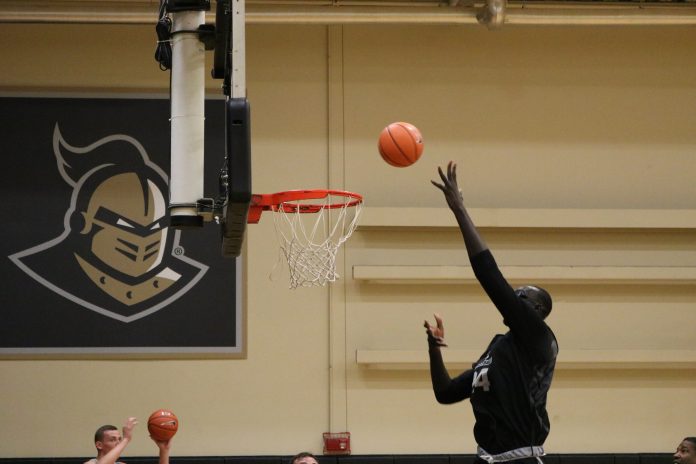 ORLANDO, Fla. — UCF basketball tips off this Friday night and expectations are high in Head Coach Dawkins' second season at the helm. Dawkins has quickly turned around this program, doubling the teams win total in his first year as head coach.
Last year the Knights lost in the NIT semi-finals, this year they aspire to make the big dance.
"I'd rather have expectations, we are excited about that," Coach Dawkins said at media day. "They understand the standards that we've established in our program, and that's a big benefit for us."
The American Athletic Conference coaches vote projected UCF to finish 3rd in the highly competitive conference. Newcomer Wichita State is backed by tremendous clout in their inaugural season in the American, and they are projected to finish 2nd.
Cincinnati was once again picked to finish 1st.  Expect good things out of the American conference this year – they have gained some depth, the Larry Brown led SMU Mustangs are always solid and Connecticut has too much history to stay down long.
It wouldn't be surprising if the American conference lands four bids this year.
"We are definitely going to make the NCAA tournament, that's our goal," Tacko Fall stated. "We are going to it game by game, that's how we did it last year."
The Stars are Back:
Tacko Fall returns!  The big man decided against leaving for the NBA, which is phenomenal news for the Knights.  If you didn't know already, Tacko measures in at 7'6, 295 pounds.
Tacko anchors UCF's defense, and the defense is what separates this team among the AAC powerhouses. Last year UCF ranked 1st in the nation in defensive field goal percentage, expect this year to be no different.
Look for Tacko's inside touches to increase, the kid has been working on his game.  Expect big things from Tacko Fall this year.
B.J Taylor is a dynamic point guard who can distribute, score, and defend.  You could tell by his demeanor at media day that this man is on a mission.
Last year Taylor scored 17.4 points per game.  He was very efficient with his scoring, with a true shooting percentage at 53%. Taylor can shoot the three well and is like a bulldog going to the basket.  He creates space so well by using his broad frame, and is a good finisher.  It will be interesting to see the offensive role he takes this year, with the loss of Matt Williams.
The Lefties:
AJ Davis was a nice piece for the Knights last year, starting in 29 games.  He averaged 7 rebounds a game in 2016.  He is a coach's dream; he rebounds, makes timely cuts on offense, and most importantly he is a versatile defender.
Chance McSpadden returns to the floor this year after missing all last year due to injury. The Knights will be pleased to have this guy back, expect Chance to start at the 2.  He had a promising freshman year and should be a great player for the Knights in 2017.
He has been working on his jumper in his time off, and his jumper didn't need a lot of work. Chance McSpadden could be deadly from three this year.
Unfortunately, Aubrey Dawkins is out for the year.  He is an NBA caliber wing and will truly be missed. He announced this via video late last month.
"Wish I was playing for you guys this season but I cannot. Of course, next season I will be back stronger and excited to play in front of you guys," Aubrey said in a message to the school.
This should be an exciting year for the Knights.  You are going to get watch a lot of good basketball.  Coach Dawkins is an incredible role model, and these kids will play their buts off every time they take the floor.
This Friday is the season opener.  It is at CFE arena at 8:00 P.M.  They take on Mercer.