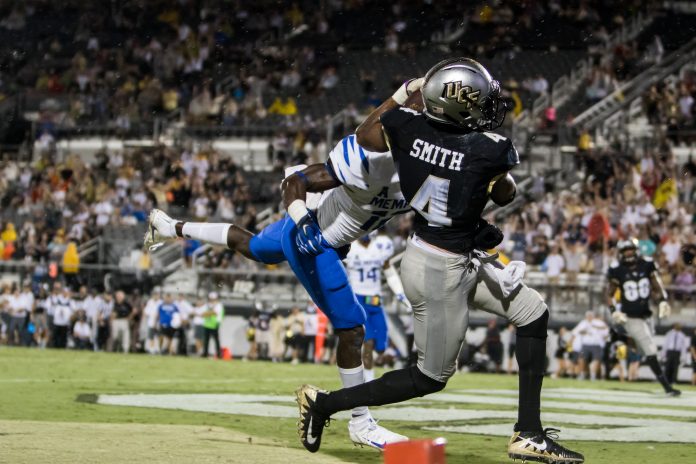 ATLANTA, Ga. – It was a chaotic road marked by firestorms and hurricanes, but UCF has finally made it to the grand stage – the 2018 Chick-Fil-A Peach Bowl.
The biblical repositioning of David vs. Goliath, the Knights are settling in for one more shot at the Group of Five's lackluster national reputation in the battle for significance.
A Big, Bad SEC Opponent
UCF is playing this one exactly how most would believe, publicly giving the required respect, but not counting themselves out.
"They're monsters," said Gabe Davis. "They're really good. Their whole defense is obviously just a great defense from their front four to their back four. They just have a great secondary. Their linebackers are good. They're real fast, physical and strong, but at the end of day – just like Kyle said – football is football."
Loudermilk paraded a slightly bigger chip on his shoulder.
"I think it shows we can hang with anybody in the country. We're not just some little school down in Florida and we can hang with the big boys. We've shown it before and we're going to show it again," insisted the punter.
"We're all full-ride athletes, so it's nothing like that, we just have to come out and play out style of football, if we come out and play the way we're supposed to play we'll have a really good game on our hands."
Extra time to prepare helps, even with a coaching staff running thin at the helm of two separate programs.
"I think just this long time off has been pretty good, because they have so many formations. Like Coach Chins was saying, a lot of teams get into a bind because they usually only have one week to prepare, so we had the opportunity to kind of break them down," insisted Kyle Gibson.
Mac Loudermilk Indoors
Loudermilk has a chance to make some more waves in this one, adding to his already rising national profile. The man-beast with a golden foot says he hasn't hit the roof of the stadium yet, but that it is a possibility.
"It's going to be close. No wind, no variables, it's going to be bombs away," he said.
An Impressive Stage
"Walking in there, I remember the first day, you kind of just get stuck that you're even sitting in the Mercedes-Benz Stadium," sighed Gabe Davis on Thursday. "Not a lot of guys get the opportunity for that, especially being out of the power five – they kind of look down on us."
Punting challenges aside, Loudermilk echoed Davis' thoughts. He just insisted that it felt wrong, as a Saints fan, to call it Mercedes-Benz Stadium.
---
Peach Bowl Weather Forecast: