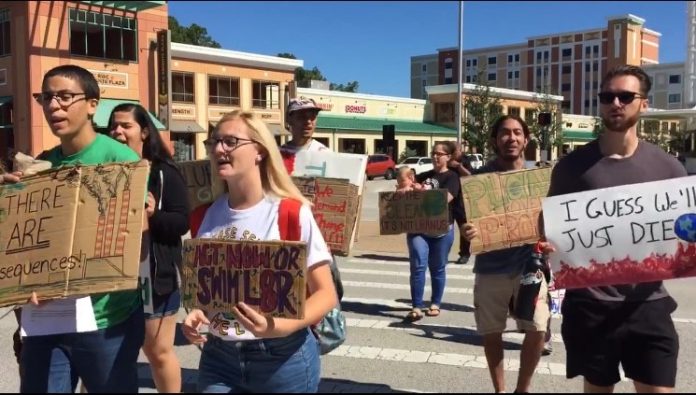 Students mark Earth Day with a march across campus demanding UCF improve environmental sustainability, social justice and student representation.
A small crowd of about 16 people marched from the Addition Financial Arena to UCF administrative offices in Millican Hall with petitions in hand.
A coalition of seven student organizations arranged a list of 17 demands which they came up with after getting students' feedback during two town hall meetings, held on campus April 10 and 17, said Emily Sarasa, integrated business senior and president of Knights for Animal Rights. She said the march is to raise awareness and get the administration to answer to their initiatives.
"We've been all working from our organizations on separate initiatives, however, overall there's been inaction on behalf of UCF," Sarasa said. "So we're hoping that when we present this all together and we say that we have seven student organizations coming together on this one platform that they will be willing to listen."
Their list of demands included environmental sustainability improvements, such as adding more recycle bins, eliminating single use food containers and indefinitely ceasing land development and building expansions. There were also demands for UCF to "divest from Aramark," fund an "independently-run" student newspaper, and increase student involvement in UCF decisions.
Emily Marte, a senior political science major and president of Progressive Action – one of the organizers of the event – said that after UCF signed a contract with Aramark they "drove out" local businesses, and are not providing any vegan options in their campus restaurants.
"We're looking to [have] more options than the monopoly that is Aramark," Marte said.
Sarasa also said that Aramark is not treating their student workers fairly, in part by scheduling their work time to a half hour less than is required to give them a free meal, to avoid providing it to them.
"Students come to aramark with concerns and Aramark has no obligation to listen because UCF signed over our rights basically," Sarasa said.
One of the UCF administrators who negotiated the Aramark contract resigned in 2018 after complaints that he was taking gifts from vendors.
As marchers walked across campus they asked students to sign their petition, to support their platform of initiatives. They collected 150 signatures from students on campus and presented them to the assistant for the dean of students, Adrienne Otto Frame, Sarasa said.
Diego Molino, a junior political science major with College Democrats, said the current UCF newspaper, Nicholson Student Media, "cannot really badmouth UCF."
"The lack of a completely student owned and run newspaper is a little bit concerning to me," Molino said.
Molino said he would like to see UCF either changing the current newspaper to be fair or funding an independently run newspaper that can provide fair and critical coverage.
"It cannot be all good news," Molino said. "While yes UCF is good, there are some more aspects, such as Aramark contracts and such."
Knight News is independent from UCF and is student-run, but doesn't receive funding from UCF.