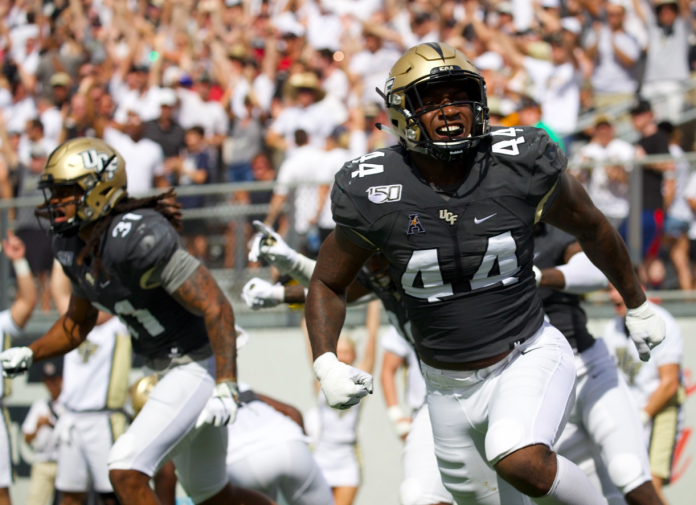 PITTSBURGH – With the last opportunity to make a statement and dominate a Power Five team on the line, the No. 15 UCF Knights will travel to face the Pittsburgh Panthers Saturday at Heinz Field.
Although, making a statement and listening to the "outside chatter" is something UCF head coach Josh Heupel said he tells the team to tune out. Heupel said the team focuses on controlling the things they can control.
The game will be the last before UCF (3-0) faces its first American Athletic Conference opponent of the season, while Pittsburgh (1-2, 0-1 Atlantic Coast Conference) was defeated by its conference opponent the Virginia Cavaliers in its season opener.
Despite heading into the matchup as the No. 15 ranked team in The AP Top 25 Poll, UCF redshirt junior defensive back Richie Grant said the rankings and national polls aren't something he keeps track of.
"We're earning our respect out there on the field," Grant said in a pregame press conference. "We just like to go out there and show them how we dominate, show them how we play."
UCF senior linebacker Nate Evans Jr. said the UCF defense has been playing with a lot of energy.
"Those guys are real hungry. Everybody wants to get to the ball; everybody wants to create negative plays" he said in a pregame press conference. "When you have 11 guys on the field with that same mindset, good things happen, and you know that shows."
The Knights' defense currently ranks No. 1 in the nation in tackles for loss with 11.3 per game. UCF also ranks No. 4 in team pass efficiency defense with 77.97 yards per game and No. 13 in total defense with 253 yards per game.
Pittsburgh, on the other hand, is in an eight-way tie for the No. 33 spot in tackles for loss with 7.3 per game. The Panthers rank No. 36 in pass efficiency defense with 114.64 yards per game and No. 36 in total defense with 303.7 yards per game.
Pittsburgh junior quarterback Kenny Pickett said UCF has been a top team for a few years but said despite the Knights' fast defense, it doesn't compare to the defense Top 25 schools like Virginia and Penn State.
"They're up there," Pickett said in regard to the UCF defense being one of the top in the country. "If you look at Virginia, they're all very good. It's hard to say. I think Penn State's front seven was very good. I think [the Knights' defense] in the back end have more speed and are a little tougher in their man-to-man coverage and with the tighter window throws I'll have to make – they do a good job in that area."
UCF's offense ranks No. 1 in the Football Bowl Subdivision for first downs with 89 on the season. The Knights also rank No. 3 in total offense with 604.3 yards per game, No. 5 in sacks allowed with 0.33, No. 6 in pass yards per completion with 18.21 and No. 6 in scoring offense with 51.7 points per game.
"We're fast and physical," UCF junior wide receiver Gabriel Davis said. "We outplayed [Stanford] physically, mentally, all that."
Davis said Pitt is a great team with a well-rounded defense and will be ready to fight.
In the last meetup between the two teams, Pitt traveled to Spectrum Stadium where the Knights defeated the Panthers 45-14 behind quarterback McKenzie Milton. The September 2018 victory for the Knights tied the series, with the Panthers previously defeating nearly 13 years ago in a 52-7 win at the Citrus Bowl.
The Knights have scored an average of 51.7 points per game this season, while the Panthers average 14.7 points. In terms of rushing yards, UCF averages 282.7 yards per game to the Panthers average 87.3 yards.
The Knights take on the Panthers Saturday at Heinz Field in Pittsburgh, with kickoff at 3:30 p.m.