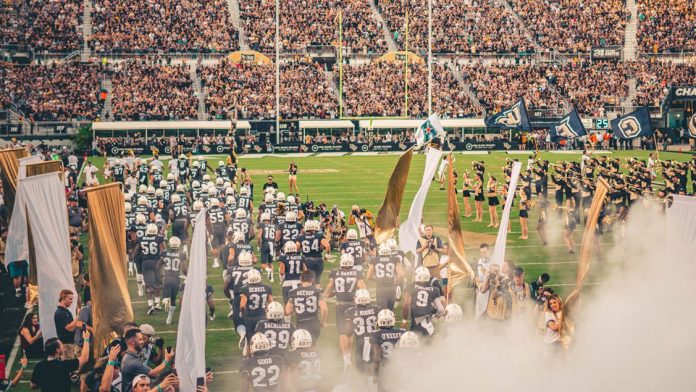 After a week-long series of meetings and planning, UCF Vice President and Director of Athletics Danny White said UCF Athletics will be making changes for the students attending the home football game Saturday against the UConn Huskies, according to a news release.
"The enthusiasm and excitement generated by our students are such a huge part of the overall game day at Spectrum Stadium and it made perfect sense for us to make their experience here with our football program as great as it can be every Saturday," White said in the release.
White said the administrative staff spent last week looking at options and meeting with UCF's Student Government Association leaders. "We believe these measures will significantly improve what our students experience on Saturday night," he said in the release.
In the release, White said these are the changes students can expect to see on Saturday:
An increase of six additional student entry points to allow faster entrance into the stadium.
An increase of staff on hand to expedite student entry.
Student gates will open approximately 30 minutes earlier – approximately two hours prior to kick-off, as opposed to 90 minutes in advance in the past.
The soccer practice field will no longer be used to queue the line, but instead, the line will begin at the student entrance at Gates 6-9.
Students in line will be able to keep their food and beverages until they reach security.
Free ice water will be available at a large water container for students in line.
Discounted hot dogs for $2 each and Dasani water for $2 per bottle will be available to students in line – cash only.
SGA President Kyler Gray said in the release that SGA partnered with UCF Athletics to provide a better game day experience for UCF students and to ensure that Knights fans are able to enter the stadium more efficiently and to enhance gameday attendance.
"UCF Athletics has been a great partner in ensuring a safe, vibrant and community-oriented game day culture for our students," Gray said in they release. "As always, Student Government will continue to be the voice of the student body and an adamant supporter for our premier football program. Go Knights! Charge On!"
At the last home game on Sept. 14 against the Stanford Cardinal, UCF Athletics announced the "student queue" in its game day timeline. The student queue, which opened three hours ahead of kickoff, was put into place to help create organization and efficiency but was not successful its first time around.
White took to Twitter to show his appreciation to the students who lined up three hours before kickoff before the last home game, and to apologize to the students who lined up for the game just wait in the sun.
Students are urged to claim a student pass and have it on their phone before the game, to leave all bags at home and to have a valid UCF ID to keep the lines moving as quickly as possible, the release states.
The UCF Knights will face the UConn Huskies Saturday at Spectrum Stadium at 7 p.m.