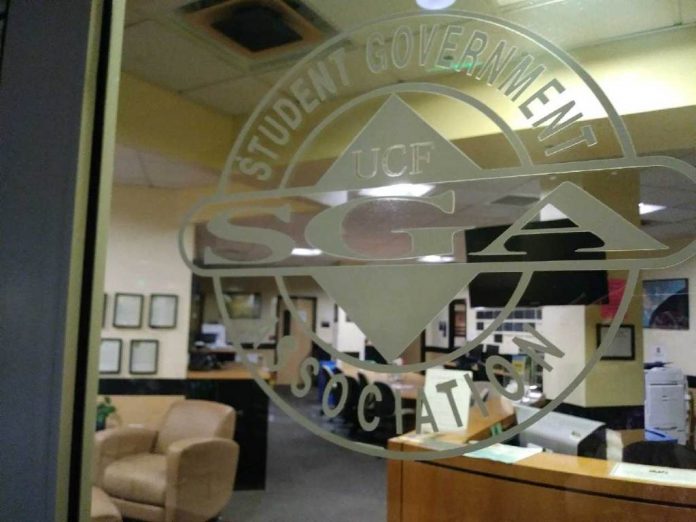 The UCF Student Government Senate Executive Committee meeting got a little spicier than usual on Thursday, Sept. 19.
Senators said the executive branch denied them the opportunity to approve the final version of the new SG logo.
The executive branch of the Student Government, formerly known as Student Government Association, recently updated the organization's logo as part of a rebrand designed to give them a fresh, new look.
"[Student body President Kyler] Gray and [Vice President Madeline] Mills chose to rebrand Student government because they saw a need for change," a Sept. 16 press release reads. "They spoke with many students, heard their concerns, and are working to push transparency and partnership in everything they do."
However, senators were only able to approve a draft of the logo and voiced grievances.
"Nobody addressed these things with me directly, which concerns me," said Daniel Robles, the SG director of communications. "On behalf of exec, I apologize for how this rebrand was launched."
The executive branch said there would be a mixture of new and old SG logos on campus, but they eventually want a unified logo.
Logan Mahan, the vice chair of the Legislative, Judicial, and Rules committee, said that there had been a lot of negative feedback about the logo.
Cami DiGiacomo, the vice chair of the student body advocacy committee, discussed old posters and printed communications that already had the old SG logo and asked whether there was a dollar amount for what the rebrand would cost them. Her question was not directly answered; rather, she was told that the rebrand would be a "slow release" and that it would not be forced on anyone.
Robles said that the executive presented a version of the logo during senate retreat that they thought would be published by the university. The university then demanded specific brand standards, and he said they had to make sure they were keeping good ties with university administration.
Fritz Farrow, the chair of the Student Body Advocacy committee, asked why the executive did not come to the senate executive committee with the new rebrand that the university approved before publicizing it.
Robles said the communication between the two groups probably could have been handled better.
The executive wanted the rebrand before SG relocates to the third floor in the Student Union, possibly this spring.
Rachel Friant, the Governmental Affairs and Policy Committee chair, continued questioning Robles.
"If we're encouraged to give feedback, why are we being reprimanded when we're speaking publicly about it?" Friant said.
During the senate meeting later that night, Robles addressed the senate's concerns.
He said that the executive branch had its own struggles dealing with the logo and that they had tried their best to keep everyone in the loop.
In order to remedy some failed understandings between the senate and the executive, he said he wants to create a cross-branch communications committee that will aid internal communications.
This article has been updated with new information.