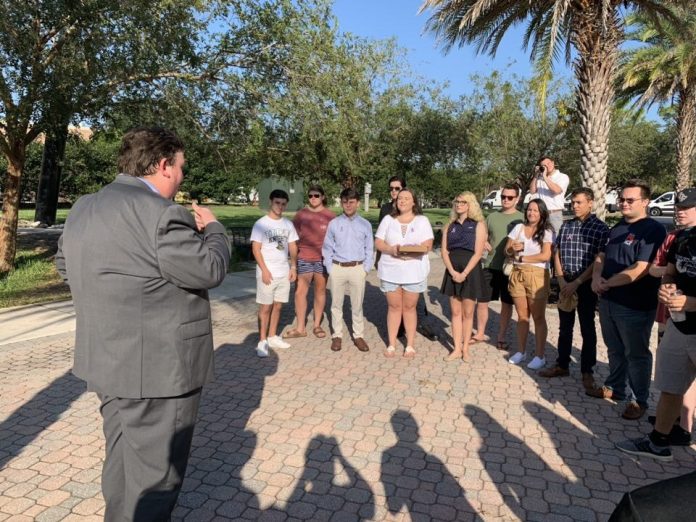 UCF College Republicans, Turning Point USA, and College Democrats gathered together near the student union Wednesday to honor first responders and the lives lost for 18thanniversary of the September 11, 2001 attack.
The groups – who stand on opposite sides of the political aisle—put any sort of partisanship aside to distribute flag ribbons to students and to hold a moment of silence for the 2,997 lives lost at the World Trade Center.
The groups host the bipartisan event each year, but moving forward there will be a distinction between this ceremony and future ceremonies: this ceremony will be the final ceremony when incoming freshman were alive during the time of the attack.
In other words, Sep 12. will be the first day when 18-year-olds were born after the September 11 attack,.
Luke Strominger, the chairman for UCF Republicans, belives the tradition of the groups banding together to honor those involved will continue forward with younger generations as the actions of our first responders that day were historic.
Strominger also said the event is particularly meaningful to him because it highlights the middle ground that can be found in politics during times of national duress.
"It's important because political views don't matter when Americans need to come together to protect and support our nation during a crisis," Strominger, a senior political science major, told Knight News.