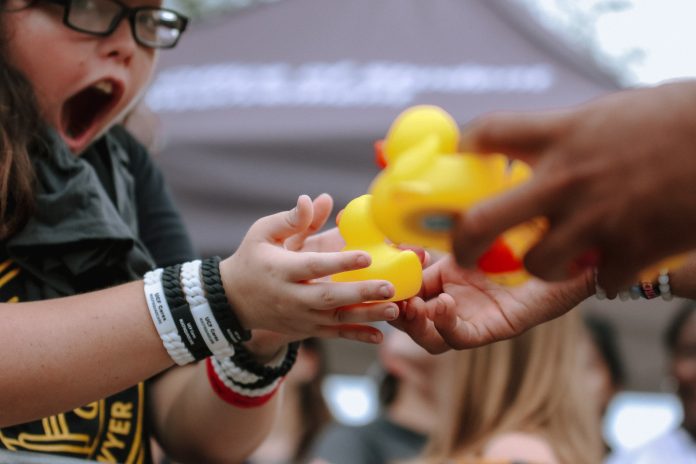 With each passing year, UCF's signature Homecoming Week tradition, Spirit Splash, gets bigger and bigger, and Spirit Splash 2019 was no exception.
During this time-honored tradition, it is not uncommon to spot UCF students wandering around the Reflecting Pond wearing bathing suits and Spirit Splash shirts — if they were so lucky to snatch one up, that is.
Students began arriving at UCF's Reflecting Pond bright and early Friday morning in hopes of getting this year's Spirit Splash shirt and a spot on the grass. This was UCF's 24th annual Spirit Splash, UCF spokeswoman Courtney Gilmartin said in a Saturday email.
"This is such a great day," said UCF Interim President Thad Seymour. "It's the greatest tradition in any college around the country."
Each year, themed rubber ducks are catapulted from the stage in front of UCF's Millican Hall and into the hands of eagerly awaiting students.
This year's Spirit Splash ducks were holding surfboards in three different color schemes: purple, blue, and purple with a green stripe.
Helena Rodriguez, junior hospitality management major and Spirit Splash director, said about 2,500 rubber ducks were ordered this year.
"The biggest priority is to actually order the ducks," Rodriguez said. "Getting the designs approved and having the ducks ordered takes about a month."
UCF football senior center Jordan Johnson was in attendance this year, along with many of his teammates, ahead of the Saturday Homecoming Game against the ECU Pirates. The team was a part of the crew throwing ducks into the crowd of students knee-deep in the Reflecting Pond.
"[Spirit Splash] was amazing," Johnson said. "It was my final one … but this one was the most fun, definitely."
The Friday before the Homecoming football game, the campus community traditionally comes together to charge the Reflecting Pond — with the UCF football, cheer and KnightMoves dance team on stage, along with the UCF Marching Knights band — as a pep rally before the football team plays at Spectrum Stadium the next day.
Rodriguez said she was told by many participants that it was the smoothest Spirit Splash they had attended at UCF so far.
"I was proud to see all of the students at the event," she said. "It helped me to see that all of my hard work was worth it."