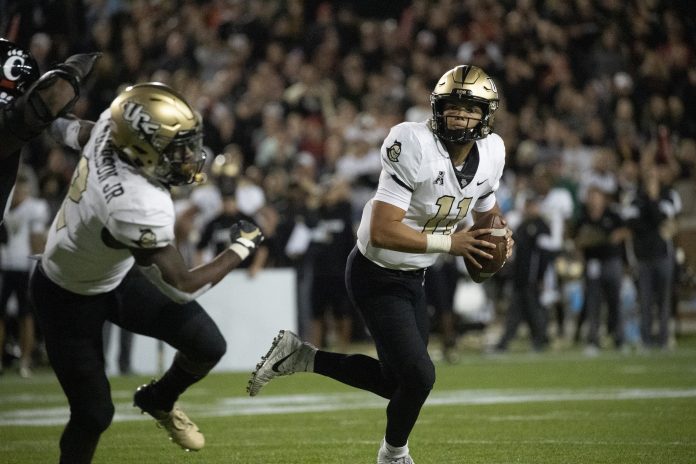 CINCINNATI — The No. 18 UCF Knights fell to the Cincinnati Bearcats 27-24 at Nippert Stadium Friday, marking the first time the Bearcats have defeated a ranked opponent since the 27-24 win over No. 25 Virginia Tech in the 2012 season.
After going into halftime up by six, the Knights' offense couldn't get things started in time to overcome the lead the Bearcats took in the third quarter.
With just over 5 minutes left on the clock, UCF freshman quarterback Dillon Gabriel threw a pass that was picked off by Cincinnati freshman cornerback Ahmad Gardner – who entered the game with one career tackle – and returned it 16 yards for a score.
While the Cincinnati defense rotated through cornerbacks and safeties, UCF head coach Josh Heupel said he didn't consider putting in redshirt sophomore quarterback Darriel Mack Jr. when asked after the game.
Gabriel entered the matchup ranked No. 6 in the nation in passing efficiency, having completed 74-for-120 on 1,338 yards with two interceptions and 14 touchdowns. He ended the night completing 25-for-46 on 297 yards, a touchdown, three interceptions and a season-high four turnovers.
"I didn't do my part," Gabriel said after the game. "I've got to come out and play a lot better. Just feel like on my part, [I] didn't do my job."
With a bye week head, Gabriel said it will be a chance for him to lock down and focus, so he can better help the team before the game against the ECU Pirates on Oct. 19 at Spectrum Stadium.
"We've got to improve in all areas," Heupel said. "I thought our defense did a lot of really good things tonight. They battled and fought and competed really hard. I thought our special teams are really sold all night long, they know they did a good job."
UCF senior linebacker Nate Evans Jr. recorded a career-high 17 tackles on the night, and 46 on the season. Redshirt senior Brendon Hayes recorded his third sack of the season, and junior Tay Gowan recorded his second interception of the season – both respectively leading the Knights' defense.
Despite still leading the series 3-2, the loss marks the end of the nation's longest streak — and the longest streak in the of The AP poll era — of 30 or more points per game for the last 31 games for UCF. The Knights fall to 4-2 overall and 1-1 in the American Athletic Conference, while the Bearcats improve to 4-1 on the season and 1-0 in AAC play.
"There's a lot of positives to take from this football game, just not enough of them to take collectively as a group," Heupel said in the postgame press conference. "At the end of the day, it's going to be coaches and players together. Offense, defense, special teams together as a family — fighting, scratching, clawing, getting a little bit better."