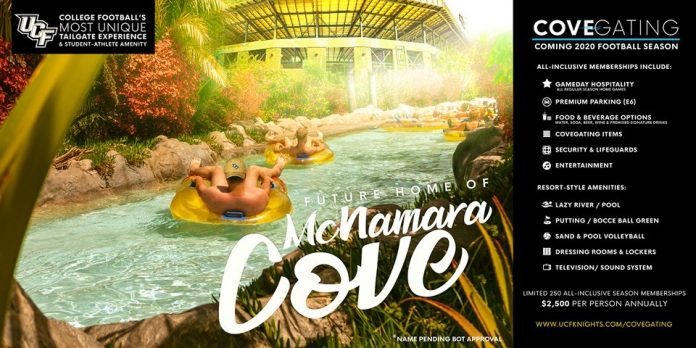 The UCF lazy river officially has a name: McNamara Cove, and it is scheduled to be ready in time for the 2020 football season, UCF Athletics announced in a news release.
The new name was introduced in November 2018, but the UCF Board of Trustees approved the name during a Sept. 19 meeting.
"Covegating" is a new style of tailgating unique to UCF and the McNamara Cove, where students and fans can float along a lazy river before kickoff if they are willing to pay the price.
Only 250 Covegating all-inclusive membership packages are available, according to the UCF Athletics news release. The packages — which are for all regular-season home games and cost $2,500 per person annually — include food, beverages, parking and other resort-style amenities, the release states.
Although psychology major Gabriella McNamara has the same last name but no relation to the McNamara family — whose $1 million donation made the lazy river possible — the UCF student said she is not a fan of the $2,500 price tag for students.  
"Students at least should get a major discount cause that is super pricey," she said.
Tara Fellows, a UCF biology major in the pre-veterinary track, had a different outlook on this expensive price. 
"I think during tailgates it should be that price," Fellows said. "Look how students treat tailgate spots now."
With recent concerns of individuals not properly following the rules while tailgating at Lake Claire — with trash being left at tailgating spots, and students and fans not cleaning up after themselves — Fellows said she believes the high price will keep the area clean.
Fellows also mentioned it would be nice to have this area open year-round and free to all students, which was a topic of discussion with John Heisler, senior associate athletics director for strategic communications.
Heisler said UCF Athletics is still in the works to figure out the day to day use and access for the lazy river aside from during football season and tailgating, and it is not clear if costs would be associated with the offseason use at this time.
Although the McNamara Cove name was approved by the Board of Trustees in September, the idea for the lazy river was announced in 2017 — and called Recovery Cove at the time — as part of the $25 million donation-driven initiative to make the Kenneth G. Dixon Athletics Village the best of its kind.
The overall donations goal UCF Athletics hopes to raise was increased from $25 million to $30 million in 2018 based on the current construction-cost projections, the initiative's website states.
Student-athletes will be able to enjoy McNamara Cove as a free amenity when built, where they will be able to relax after practice. UCF Athletics wanted to create this space as a place for student-athletes to unwind and recover, allowing the original concept for Recovery Cove to keep true to its name.
"UCF student-athletes have very demanding schedules. Having a recovery and leisure space so close to the Wayne Densch Center for Student-Athlete Leadership and the Garvy Center for Student-Athlete Nutrition will significantly enhance the UCF student-athlete experience," UCF Vice President and Director of Athletics Danny White said in the release. "McNamara Cove also will deliver one of college football's most unique game-day premium experiences for UCF fans."
UCF redshirt junior tight end Jake Hescock did not know too many details about this up and coming amenity, but said how excited he will be when it is finally built.
Although student-athletes are often busy during the season, Hescock said he would be sure to spend any free-time at the lazy river once it is completed.
"Right now I got a little bit of free time," he said. "After this, would definitely go throw on a bathing suit and get in there for sure."
According to the release, McNamara Cove will generate new operating revenues for UCF Athletics while also providing the most unique game day tailgating experience for individuals and corporate clients.
Other smaller single-day rentals for corporate or social events will create revenue, and the Cove will be available for special events for use by Covegating members, UCF Athletics donor events, UCF alumni programming and other student groups, the release states. 
A full list of the amenities included in the Covegating membership can be found on the UCF Athletics website.
Construction is set to begin at the end of the current football season for McNamara Cove to be ready in time for the UCF Knights to face the North Carolina Tar Heels in the home opener of the 2020 season at Spectrum Stadium.