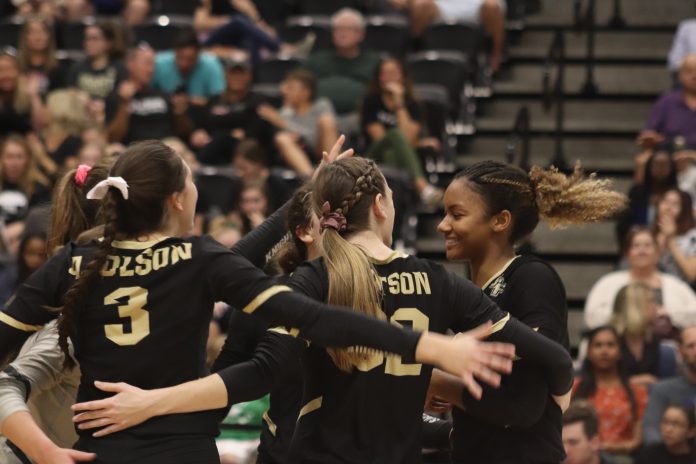 The UCF volleyball team defeat the Tulane Green Wave 3-1 on Sunday at The Venue, improving their American Athletic Conference winning streak to seven straight games.
The Knights won two straight sets, before losing their rhythm in the third, but coming back and dominating the fourth set (25-19, 25-20, 18-25, 25-17). This is also the first time the Knights lost a set at home in conference play.
UCF senior setter Erin Olson led the Knights with 28 of the teams 55 assists, followed by her younger sister, sophomore setter Amber Olson with 22 assists. Senior right-side hitter Alli Sabol finished the game with 18 total attempts and 11 kills.
Erin Olson credited the team's motivation and support and overall effort in the Knights' victory over the Green Wave.
"Tulane is always a really, really tough opponent," Erin Olson said. "We struggle with them every year. They're super gritty and it really took the whole team to beat them today. We basically said, 'hey, we need to pull together as a team, the only way we are getting out of this is if each of us are playing for each other and not as individuals.'"
Erin Olson finished the game with seven digs and a .000 hitting percentage, while Sabol finished with two digs and a .556 hitting percentage.
"I feel like we just played a season right now. I don't know why that is, they are just so tough to beat it's like that every year," UCF head coach Todd Dagenais said. "[Tulane] played amazing defense — they make you earn everything, and they don't make a bunch of mistakes."
Despite the third set slip, the home crowd of 348 at The Venue did its part and stuck by the Knights as UCF (16-6, 9-1 AAC) went on to defeat Tulane (16-7, 6-4 AAC).
"We did a really, good job sticking together as a team," Sabol said. "Tulane always gives us a challenge, and I think we rose to the occasion today. We had our little slip up there in the third set, but we came together as a team in that final set to take it from them."
The Knights will be back at The Venue Friday to face the USF Bulls in the War on I-4 rivalry with hopes of keeping their conference winning streak alive.
The Knights last faced and defeat the Bulls 3-1 earlier this month on the road, and the Knights lead the all-time series 16-5 over the Bulls.
"The War on I-4 means a lot more to fans and the school and everything like that — to us, we've got another team coming," Dagenais said. "Obviously we want to beat those guys we've had success against, and we don't want to let them back in, and it is important to us because we don't want to let the school down."