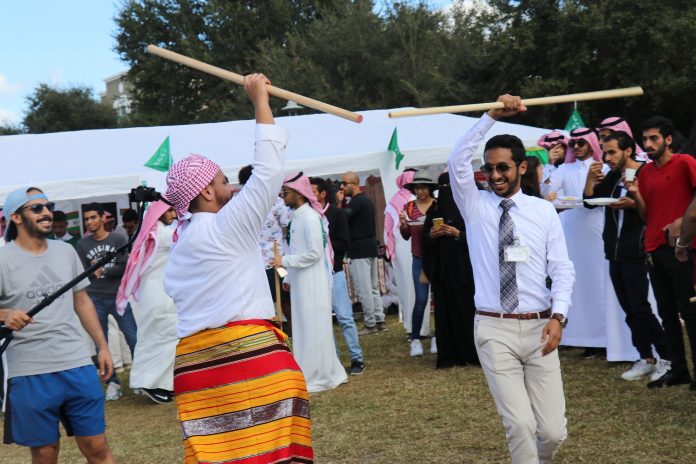 It's a sunny day, you can feel the warmth of the sun's rays behind your neck as sweat trickles your back.
Somehow you ended up in Saudi Arabia only to see people celebrating, dancing with sticks, and eating food mainly made out of dates.
This is the festival of Al-Jenadriyah where all the regions of Saudi Arabia meet to celebrate the culture of each region, and it is the first time celebrated at UCF.
Which is exactly what happened at Memory Mall where it was decorated with tents to represent the north, south, east, west, and central regions of Saudi Arabia.
Due to International Education Week, The Saudi Student Association decided to host this festival since it coincides around the same time.
There are so many different cultures in the regions of Saudi Arabia. For example, according to the president of the Saudi Student Association, Rodwan Alharbi, there are different methods of fishing across Saudi Arabia.
The south region could have its own version while the western region could have a different way of how to fish, and so on and so forth. This meant that Alharbi needed help representing those cultures.
In order to make this happen, Alharbi made an announcement inviting anyone from the main five regions to come and help present during the festival, whether it be making meals or putting on traditional cloths.
This resulted in a group of Saudi students who had never met before who had to work as a team and put the festival together in two weeks.
"This event will let people know about our culture," said Sari Alhujuri, electrical engineering freshman. "You learn so much and you'll try every region's food too, so there's a plus, everyone loves food."
Alharbi described that students connecting and making new friends while bonding over preparations for the festival made him feel delighted.
Though this is Alharbi's last year as president, he has high hopes for the future of the association
"We're going to have a new group and hopefully they come with new ideas better than us," Alharbi said. "That's what we want, every year make something better than before."
Yet the festival wasn't just all fun and games, what was also demonstrated was Vision 2030 which is a plan to reduce dependence on oil for Saudi Arabia's economy and put more development in different sectors like education, health or tourism.
"Vision 2030 is Saudi Arabia depending on itself from imports from economics from everything," said Salma Alagla, first year English learner and a member of the association. "There's separate sections that Saudi focuses on mostly which is economic, education, and entertainment."
A few projects are in the works such as opening up a Six Flags type theme park to bring in more tourism and the King Salman bridge to help bring cargo from across the sea. The bridge will link Europe and Asia.
Having the opportunity to celebrate Al-Jenadriyah gave the students of UCF a very broad experience.
"I feel like they have so much love to give and they're just special people," said Pauline Kabambi, a junior in international relations and global studies. "Maybe I might not be able to go to their country but just having this gives me a glimpse of how they live and what type of people they are."