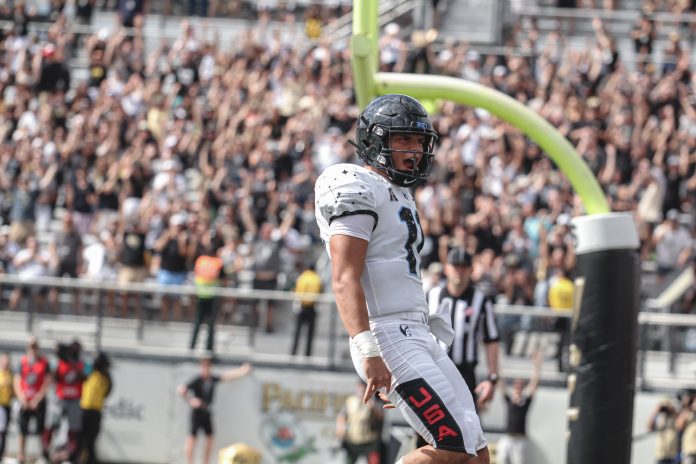 The UCF Knights rocketed past the visiting Houston Cougars Saturday after weathering a sluggish first half open during the Knights' third annual Space Game.
The match marks the second straight game UCF's opponents have scored first and the Knights have found themselves relying on the second half of a game.
With just two minutes before the end of the first quarter, the Knights made a 10-point deficit just a 3-point one and went into the half leading by one.
The Knights rallied to defeat the Cougars by a final score of 44 – 29.
UCF freshman quarterback Dillon Gabriel was nothing short of celestial ⁠during the game as he threw four touchdowns for 298 yards including a 42-yard bomb to redshirt senior Jacob Harris. The true freshman also ran in a 22-yard touchdown in the
Gabriel now ranks as UCF's all-time freshman pass leader with 2,516 yards on the season, surpassing Ryan Schneider's 2,334 yard season in 2000.
The Cougars were met with little resistance from the Knights' first-half defense as they amassed 357 yards for 23 points, the most UCF has allowed in a first-half this season.
Houston's first-half surge was led on the ground by senior running back Mulbah Carr, who tallied two touchdowns and 108 yards before halftime.
A third quarter UCF insurgency was sparked by a diving 43-yard touchdown pass to redshirt sophomore Bentavious Thompson. The Knights continued their attack to score 21 unanswered points in the third quarter.
The UCF defense, which ranked third in the nation with 9 tackles for loss per game, totaled a season-high 17 in the game. Redshirt junior defensive tackle Kenny Turnier recorded his first solo sack of the season and led the defense with 3.5 tackles for loss against the Cougars. 
With the victory, the Knights improve to 7-2 overall and 4-2 in American Athletic Conference play, while the Cougars fell 3-6 overall and 1-4 in conference play.
UCF will next hit the road for a conference matchup against the Tulsa Golden Hurricane in Oklahoma on Nov. 8 at 7 p.m.