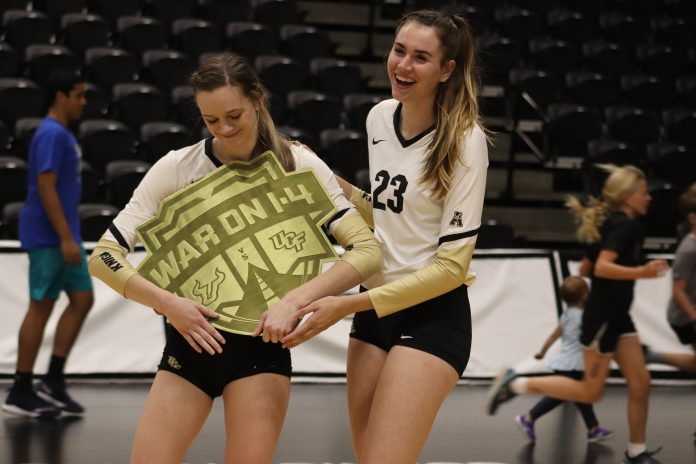 The UCF volleyball team swept the USF Bulls 3-0 on Friday at The Venue, continuing their American Athletic Conference winning streak to eight straight games.
The Knights took the lead and won the first set, the Bulls later took a slight lead while in the second set, but the Knights came back to win set two and then dominated set three (25-14, 26-24, 25-14).
UCF sophomore outside hitter McKenna Melville had an impressive game and ended the night with 15 kills, followed by senior outside hitter Kristina Fisher with 12 kills, and junior outside hitter Ann-Marie Watson finishing with 10 kills.
"For me it's just another win, obviously for the school it's a little bit bigger, so it's pretty cool to represent your school in that way," Melville said. "The energy was great, there was a few points where I was like 'oh my goodness, they're really loud tonight,' so it was really cool to see everyone come out and support us."
Melville finished the game with 32 total attempts and a .281 hitting percentage, while redshirt junior middle blocker Nerissa Moravec ended with the highest hitting percentage of the night with a .714 percentage.
"Obviously this is nice for us get another conference win on the board, at least we stay tied for first place pending whatever else happens in the conference tonight," UCF head coach Todd Dagenais said. "This is one of those matches when you play South Florida you throw the records out, and anything can happen."
The crowd was in full voice with 1,001 attendance at The Venue and did its part by supporting the Knights (17-6, 10-1 AAC) as they went on to defeat the Bulls (7-18, 1-10 AAC).
The Knights will travel to Dallas to face the SMU Mustangs on Sunday with hopes of keeping their conference winning streak alive.
The Knights last faced and defeated the Mustangs in Dallas last November, where UCF defeated SMU 3-0 and leads the series overall 7- 15.
"I'm glad we did our part to earn six points for the War on I-4 this year," Dagenais said. "Obviously its important, but for us now, we wipe this, and we have to jump on an airplane tomorrow and go get ready for SMU in Dallas."