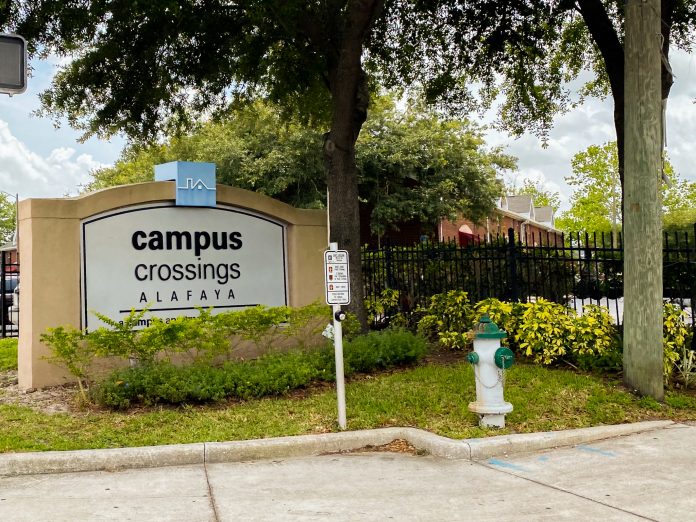 A UCF student is taking action against an off-campus housing complex after paying months of rent for an apartment he no longer has belongings in.
Harvard Law School graduate and Florida House Rep. Michael Beltran — who represents part of Hillsborough county in District 57 — is representing UCF student Michael Trevett in a lawsuit against the owners of Campus Crossings on Alafaya. Beltran is representing Trevett in his private capacity as a lawyer.
"Despite marketing their apartments for the primary purpose of attendance at UCF, Defendants now insist on collecting rent even though UCF has closed," Beltran wrote in the lawsuit filed in Orange County, Florida.
The Florida Board of Governors first announced the transition to remote learning on March 11, and UCF informed students of the move to remote learning on March 13. The university announced it would teach the remainder of the spring term remotely on March 17, and announced all summer sessions will be delivered remotely on April 9.
Beltran wrote in the complaint that Michael Trevett paid his rent in April and May — totaling $1,340 — under protest. Both Michael Trevett and his sister, Monique Trevett, vacated their apartments, returned their keys and sent a letter to Campus Crossings announcing they considered the lease annulled due to frustration of purpose, the document states. 
Despite completely moving out of the apartment, Campus Crossing said they both needed to pay their rent through the lease term, according to the lawsuit filed in Orange County.
Knight News attempted to reach the owners of Campus Crossings but did not receive comment before publication.
In an interview with Knight News, Monique Trevett said she found someone to take over her lease at Campus Crossing but her brother has not been able to.
The document states Michael Trevett has paid Campus Crossings over $1,700 since UCF has instructed courses remotely.
Monique Trevett — a 23-year-old who graduated virtually from UCF on May 2 — said she lost her job on International Drive in Orlando due to COVID-19 and shutdowns.
She said she was posting online every day before she found someone to take over her lease, and wanted to share her story because she knows other students have situations that are similar to — or worse than — what her family is going through.
"We wanted to share it just in case other students are having the same situation," Monique Trevett said. "Across the nation, there have been articles that have come out in all kinds of places with the same situation going on for all these students."
What does this mean for UCF students stuck in off-campus housing leases?
Beltran said in a Sunday email the exact rights and remedies will depend on the language of the specific lease agreement. He said it also depends on the degree to which the landlord attempted to market the property as student housing or attempted to cater to UCF students. Students with concerns can email him at Michael.Beltran@AnsaLaw.com.
"Any students with current leases with landlords in the UCF area that cater to students should probably look into their legal rights if they no longer have a use for their apartment because of UCF's closure due to Coronavirus," Beltran said.
A sample of Campus Crossings' lease draft downloaded from its website can be viewed here.
The lawsuit filed in Orange County by Beltran cites the homepage of Campus Crossings' website, where an individual is first shown a message stating:
"Campus Crossings provides everything you need for the student lifestyle you want! We're conveniently located on UCF's shuttle route, and offer spacious 4- bedroom townhomes, individual leases, and an amenity package that's designed to support healthy living, socialization, and academic success. Schedule a tour today to find out why we're Orlando's best value in Student Living."
"Defendants specifically market their apartments on the basis that they will be attractive to university students," the document reads.
In the lawsuit, Beltran states neither Michael Trevett nor the owners of Campus Crossings on Alafaya had any reason to believe UCF would close its campus at the time of signing the lease.
"In fact, upon information and belief, UCF has never cancelled an entire semester of in-person classes in the history of its operation since 1963," the lawsuit states.
Florida Sen. Linda Stewart, who represents part of Orange County in District 13, said in an email to Knight News in April that off-campus housing communities should work with students during the coronavirus pandemic.
"I believe that these leasing agencies that run the affiliated housing should work with the students to lessen the burden of rent during this pandemic," Stewart said. "Most students have returned home to their families during the University's closure."
In the email sent by legislative aide Travis Flinn, Stewart said the leasing companies should seek assistance from federal resources to gap funds.
"It is not right that this vulnerable population be forced to continue to pay high rents when they likely receive little to no financial assistance from the government," Stewart said in an email to Knight News.
Florida House Reps. Carlos Smith and Anna Eskamani wrote a joint letter and sent it to Florida Gov. Ron DeSantis on April 3 urging him to issue an executive order to provide relief to students stuck in off-campus housing leases.
U.S. Rep. Stephanie Murphy told Knight News on April 13 she supports the efforts of State Reps. Smith and Eskamani and said she reached out to DeSantis, as well.
In March, former UCF interim President Thad Seymour wrote a letter to off-campus properties to work with students during these unprecedented times.
"Please consider granting early lease terminations and flexibility with rent payment plans, security deposits and guarantees," Seymour wrote.
Campus Apartments is one of the nation's largest providers of on- and off-campus student housing, according to a company news release. The January 2019 release states the company has over $2 billion in assets under management in 18 states and serves more than 50 colleges and universities.
What's next?
Both parties are required to appear — or have attorneys present — for a pretrial conference on Sept. 29 at the Orange County Courthouse in downtown Orlando, according to the Clerk of Court's website.
This is a developing story. Check back with Knight News for updates.