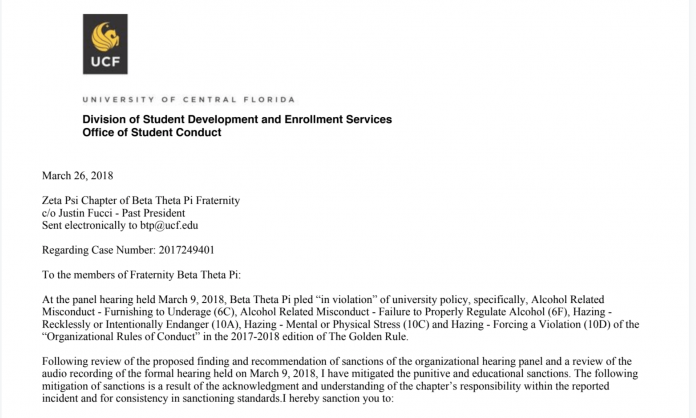 The University of Central Florida's Zeta Psi Chapter of Beta Theta Pi, has been disbanded after the fraternity pled "in violation" of multiple university policy.
UCF's student conduct recommended the fraternity be suspended through Fall 2019 after the organization's in violation plea. However, the fraternity's national chapter decided that it would be best for the Zeta Psi chapter of Beta Theta Pi to be permanently disbanded from the college.
S. Wayne Kay, the General Secretary for Beta Theta Pi's national organization, stated in an email that the "decision to disband comes after a thorough investigation…[that] validated a number of concerns with Zeta Psi's new member education program."
According to Kay, Beta Theta Pi nationals has "traveled this road with Zeta Psi before."
The chapter underwent major reorganization for similar transgressions less than 10 years ago.
As Knight News previously reported, the chapter was placed on interim suspension after allegations that a pledge was forced to drink a bottle of Smirnoff Ice.
The allegations were put forth by the pledge's family, of whom multiple members wrote emails complaining of unfair treatment.
In an email sent from the pledges family to UCF student conduct, the family states, "(he) had to drink a Smirnoff Ice. Being concerned, I did not understand why one drink made him sick until he sent a picture of the huge bottle he was pressured and forced to chug."
Another email accused fraternity activities of causing the pledge to miss class.
Beta Theta Pi was pled "in violation" to the following charges: "Alcohol RelatedMisconduct – Furnishing to Underage (6C), Alcohol Related Misconduct – Failure to Properly Regulate Alcohol (6F), Hazing -Mental or Physical Stress (10C) and Hazing – Forcing a Violation (10D) of the"Organizational Rules of Conduct" in the 2017-2018 edition of The Golden Rule," according to the official Student Conduct outcome letter.
This is a developing story. Stay tuned to Knight News for further updates.