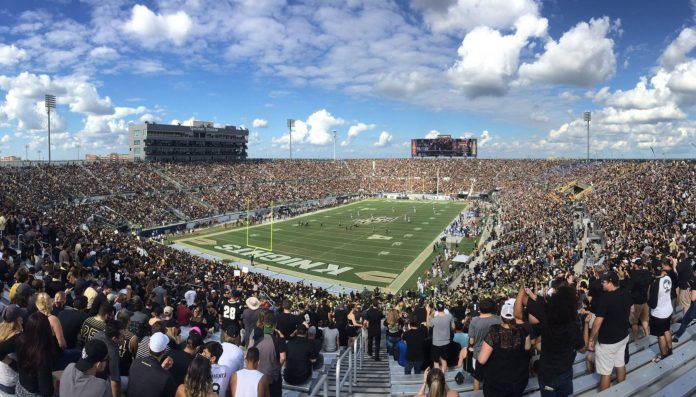 Knight News has confirmed Roofclaim.com expressed interest in a 15-year, $35 million sponsorship for the UCF football stadium.
According to the minutes Knight News obtained through records requests, UCF Director of Athletics Danny White said this would be the third or fourth-largest naming deal in college football.
During the meeting, White said it would be beneficial to the brand and informal notice was provided to Spectrum in the form of a face-to-face conversation, according to meeting minutes.

UCF interim President Thad Seymour said in a Friday email sent to the Board of Trustees the goal was to announce the partnership prior to the bowl game on Dec. 23, 2019.
Seymour said in the email the receipt of additional information and input — and with the current naming sponsorship with Spectrum running through the summer — "the desire to make sure we evaluated all considerations and options, we chose not to rush to a decision."
During a UCF Foundation Board of Directors meeting on Dec. 18, 2019, Assistant Vice President of Championship Resources Mark Wright presented to the committee the naming opportunity, the minutes read.
UCF Foundation Chair John Euliano asked for a motion and immediate past chair and Director Nelson Marchioli motioned to approve Roofclaim.com as the named stadium partner to the Board of Trustees, according to the minutes.
UCF Foundation Director Dan Ward seconded the motion, and Euliano prompted a discussion, the minutes read.
Director Alan Florez, who also serves as the foundation's treasurer, noted that Roofclaim.com could draw a negative reaction from policymakers, despite the good business relationship UCF has currently with Roofclaim.com, according to documents obtained by Knight News.

Florez said in the meeting the company's involvement in a controversial issue known as "assignment of benefits" is what could cause the negative response, and he asked if everyone was prepared for that, the documents read.
An assignment of benefits — commonly referred to as AOB — is a legal contract where a homeowner or renter gives a third party the rights to file claims, make repair decisions and collect insurance payments without the homeowner or renter's involvement, according to Florida's Division of Consumer Services website.
Euliano, Vice Chairs Carrie Callahan and Tony Moreno Jr., Directors Eva Tukdarian and Kevin Wydra, and Ex-Officio voting member Dan Ward, all voted in favor of the motion.
Board of Trustees Chair Beverly Seay and UCF Foundation Director Michael Okaty abstained from the vote on the motion. In the minutes, Okaty said he must abstain due to a conflict of interest, and questioned whether UCF had done its due diligence — not specifically with Roofclaim.com, but with the industry in general. "This is a high-profile naming and we need to be mindful," the minutes read.
Florez and Marchioli — who ultimately motioned for the name change initially — opposed the name change.

According to the UCF Foundation Naming Opportunity Policy, any naming opportunity requiring UCF Board of Trustees approval must first be presented to the UCF Foundation Board of Directors for recommendation to transmit to the BOT.
Roofclaim.com's "Our Process" section of its website states that an AOB is required so they can communicate directly with an individual's insurance company.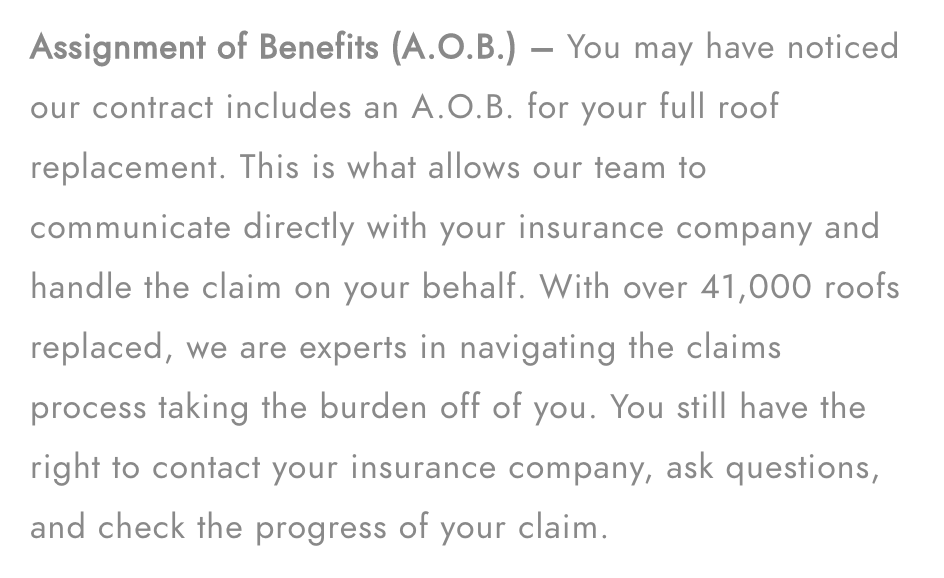 Gov. Ron DeSantis Signed HB 7065, a bill addressing lawsuit abuse related to insurance agreements known as assignments of benefits, which went into effect July 1, 2019, and is now known as Chapter 2019-57, or Florida's AOB Reform Bill.
"Florida consumers are the biggest winners with these critical protections. This year, we advocated for Florida homeowners and passed reforms to help stop rampant lawsuit abuse across the state," Florida's Chief Financial Officer Jimmy Patronis said in a May 2019 news release.
UCF and Roofclaim.com have been in partnership since December 2017, according to a UCF Athletics news release.
In August 2019, Roofclaim.com reached an agreement to become the first-time field sponsor at Spectrum Stadium, according to a UCF Athletics news release — the Roofclaim.com logo is displayed in two locations on the field for every UCF home football game, but the financial details of the arrangement are not known.
"The relationship between UCF Athletics and Roofclaim.com has been tremendous to this point," Brian Wedding, CEO of Jasper Contractors, said in an August 2019 news release.
Roofclaim.com also began holding the naming rights to the UCF men's and women's basketball court at Addition Financial Arena, as of the 2018-19 season, according to the August 2019 news release.
Roofclaim.com's name and logo are on the backdrop for all UCF football press conferences and media availabilities, along with Spectrum Stadium signage, the release states.
"All of us at UCF are so tremendously pleased to expand what quickly has become a fabulous relationship between our athletics program and Jasper and Roofclaim.com," Danny White said in the August 2019 news release.
Roofclaim.com most recently agreed to a $5 million, 10-year partnership with Florida Atlantic University — where Danny White's brother, Brian White is the athletics director — for the naming rights to the arena, according to a news release.
"Roofclaim.com is an up-and-coming brand that correlates with UCF Athletics' rise to prominence within the entire collegiate athletics landscape," Wedding said in the August 2019 release. "Roofclaim.com is proud to support UCF Athletics and their student-athletes as they embark on more championship seasons on and off the field or court. All told, the sky is the limit between Roofclaim.com and UCF Athletics."
This is a developing story. Check back for updates.